What is REGULATOR?
• CAS® File Maintenance
• SDS Template Logic
• HMIS and other Safety Handling Logic
• SDS Calculation Logic and Maintenance
• Regulatory Phrase file Maintenance
• Jurisdictional Section 15 Regulatory Reporting Set-up and Maintenance
• SDS Generation and Multiple Format Output from Formulator Database
Why Consider REGULATOR?
• All of the latest calculating and data handling tools will assure output of compliant Material Safety Data Sheets as soon as a formula is completed or modified.
• Speed SDS development, modification and improvement.
• Meets multinational requirements OSHA, WHMIS, eu, GHS, integrates with LOLI.
• Multi-lingual functions further support multi-national output.
• Low cost, makes it easy to own.
• Validated raw materials explosion of Intermediates and Hazardous materials can truly be seen for the first time at multi-level, as well as the Sum of Components of a full formula and side by side formula components.
• Fully compatible Microsoft ODBC data compatibility which allows data sharing as you build your database of SDS forms.
• Latest Windows and Crystal Reports graphic tools make it easy to learn, easy to use, easy to train others.
• Can be used as a SDS historical archive for compliance validation.
• Integrates with FORMULATOR™ for SDS output from formula development and modification.
• Best of all, you can try it before you buy.
REGULATOR™ System Functions
REGULATOR™ is supplied with all of the tools to develop your SDS forms for any formula developed in FORMULATOR™. The system utilizes the calculation logic set at the CAS®/EINECS/TSN level or in the formula settings. Tools are supplied to set output to various jurisdictional requirements including Canada (WHMIS), Europe (eu & GHS) Utilizing Crystal Reports report writer tools, the standard warning phrases and other boiler plate can be easily authored, modified and output. You can see your SDS form as you develop. SDS can be output on demand in print, pdf, or other Crystal Reports output format. A time:date log is kept of all SDS output.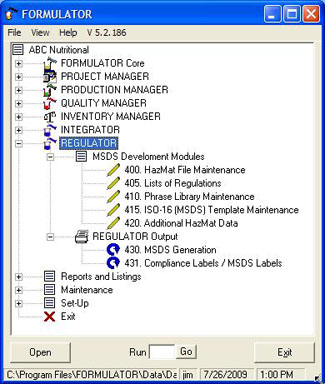 REGULATOR™ Hazardous Materials File Logic
REGULATOR™ Hazardous Materials File data is created by the User. The information from the Hazardous Materials File supplies most of the data needed to create a SDS. The SDS logic first creates a formula 'tree' and then summarizes all of the raw material nodes in a formula. Next, each raw material's Hazardous Materials formula is substituted for the raw material, to create a CAS®/EINECS/TSN level summary. The SDS logic then assembles the final document largely from the CAS®/EINECS/TSN level data.
REGULATOR™ Formula Safety Data
REGULATOR™ utilizes the Formula file Regulatory and Safety information as a basis for assembling regulatory information. Unknown formula values for flash points and hazard ratings can be optionally calculated using the 'worst' value in the mixture model in the automated option. The manual option allows the user to make the hazardous function decisions (as in the case of the result of reactive materials which are not handled as a mixture).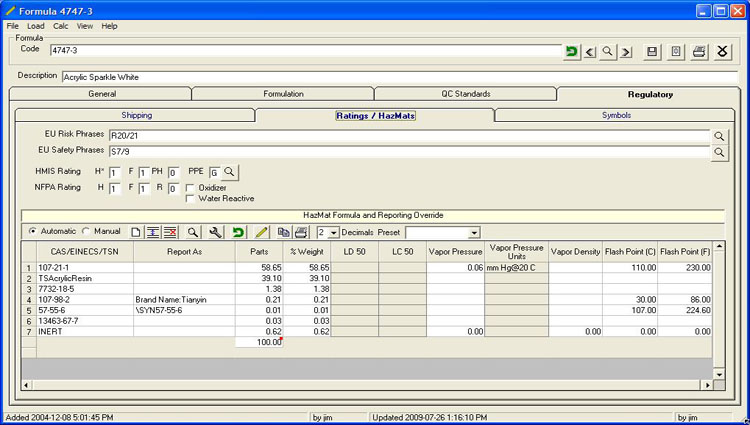 REGULATOR™ Raw Materials Safety Data
REGULATOR™ utilizes the Raw Materials Regulatory and Safety data from FORMULATOR™ as the input to the SDS hazardous materials analysis. The system requires that the user diligently populate the raw materials files as new materials are added to the system. As long as all Raw Materials in a formula are populated, REGULATOR will reduce your mixture to CAS®/EINECS/TSN level components in real time. Formulation changes can then produce a new SDS in a matter of seconds.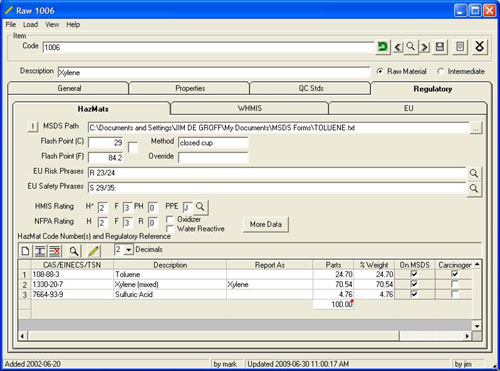 REGULATOR™ SDS Template Editer
REGULATOR™ offers full graphic controls for the design and output of your SDS by allowing the user great flexibility when building each of the basic templates of statements and safety logic for your products. The following screen shots show:
First the overall heading section and multiple tabs for each of 16 section ANSI format (which is the only format that truly complies with current regulations).
Secondly one of the 16 sections (section 3). All section editor functions allow the user to modify font and bolding of the information. The final output can be printed directly from REGULATOR™ or can be output in a wide range of formats suitable for electronic storage and transfer or web presentation.
Note in Section 9, you can have any equation output or specification print from the data in FORMULATOR™ into your SDS.
In Section 15, you can have any local jurisdictional requirements print on your SDS as defined in the "Lists of Regulations" section of REGULATOR™.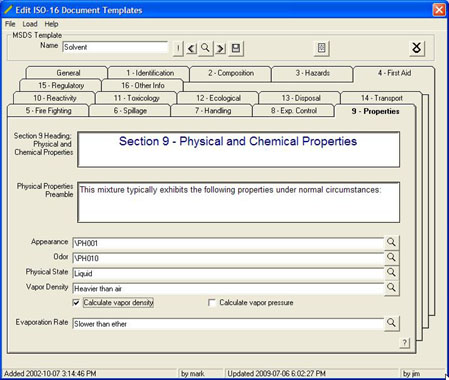 REGULATOR™ Symbols
Personal Protection Symbols, WIMIS, eu and GHS symbols are available to output in SDS and Hazardous Label forms. For more about Labeling functions see Labeling.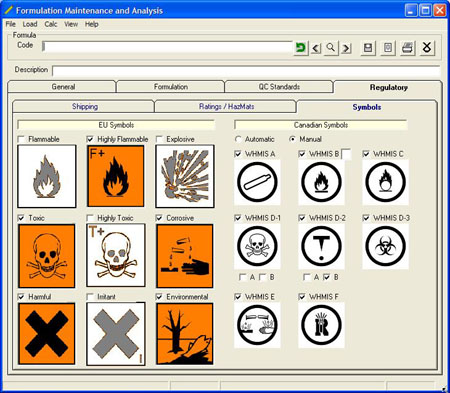 REGULATOR™ GHS Compliance USA
The US Department of Labor's Occupational Safety & Health Administration (OSHA) published the new Globally Harmonized (GHS) regulations for the United States in the Federal Register March 26th http://www.osha.gov/dsg/hazcom/ghs.html
As GHS is enforced, US firms and companies shipping to the US now will be required to meet the expanded regulations and symbology. The latest version of Formulator includes updated regulatory tools specifically designed to aid Regulator clients in meeting these requirements. These tools will assist users to meet the ever changing requirements by Jurisdictional specification in developing and creating (M)SDS forms and Hazardous Container Labels.
The GHS Regulator tools automate many of the compliance functions. The associated screen shot shows the GHS functions in process. We will continue to automate the Regulatory review process to meet the requirements of defined worker safety definitions married to the raw materials hazardous materials characteristics.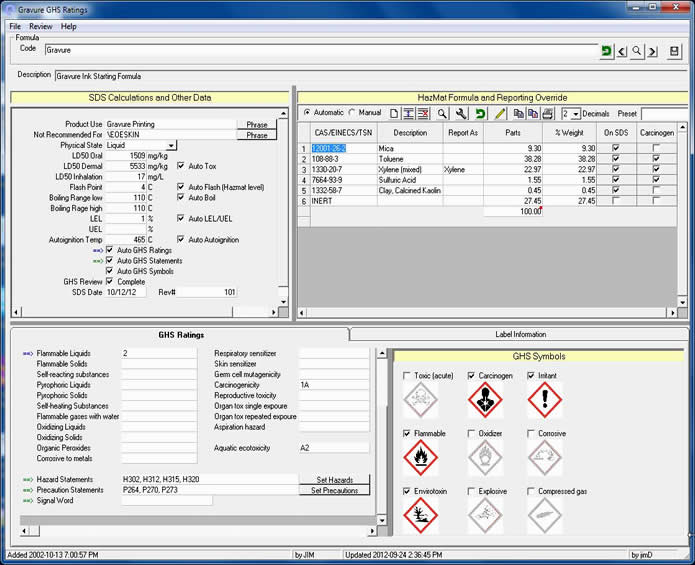 We have included a full SDS output in pdf format developed with REGULATOR™. Note the graphics at the bottom of page 1. This is output automatically based on the logic output for each formula as you create the SDS for a new formula developed in FORMULATOR™.
Click here to view the SDS PDF
Disclaimer:
NEXREG Compliance, Inc. is a FORMULATOR business partner supplying REGULATORY consulting and translation services. They are an authorized REGULATOR support partner. To learn more about their services go to www.nexreg.com