There are no practical limits placed on the number of sample or test entries for a given project. Ties directly to FORMULATOR Lab-Book module, formula maintenance features and functions. Links to customer records and Sample Manager. Links to documents, pictures, internet connections for packaging designs, related information and web resources.Each batch test entry will consist of a master project code, worker ID, date, time start / end / total, RTF notes, and formula code. Outputs associated data to clipboard then to EXCEL or other documents. Project Manager Explorer allows full review of all project details.

Project Master Table is configured by the User. Allows multiple lists and displays. Works with any industry starting with a Sales Request or Marketing definition of a new product or line. Uses common lists with Sample Manager.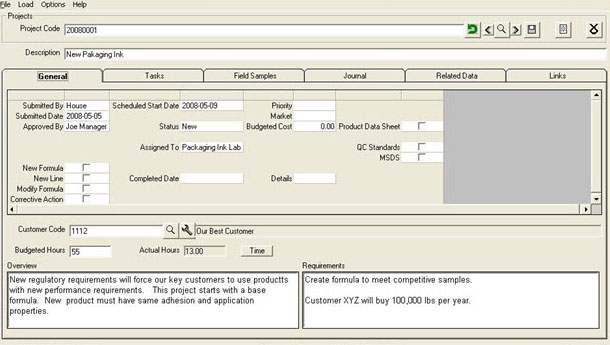 Time Manager is included as part of Project Manager which provides all of the tools to capture time spent on multiple projects by person, by cost center, by project. Useful for large laboratories or for Consultants who can capture time by project for billing purposes.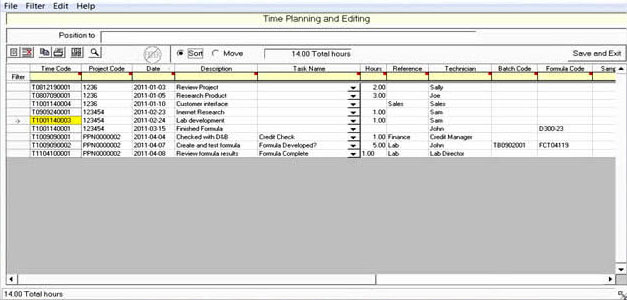 Tasks allows the User to create Milestones and related Tasks, Dependencies, Assignments of Tasks to one or more person, ties Tasks to Time Manager to keep track of who does what, when and time spent of the Task. Build one or more templates then clone them into new projects as needed using auto numbering tools or data entry logic. The Format below is just a concept of how a template might be developed.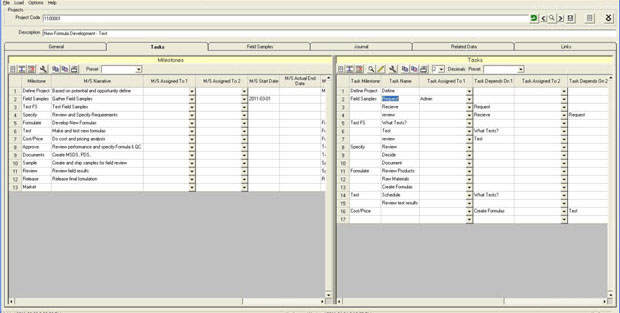 Field Samples allows the User to enter data relating to samples submitted for testing from competitive companies. Lab test results can be entered and printed to be submitted for project guidance.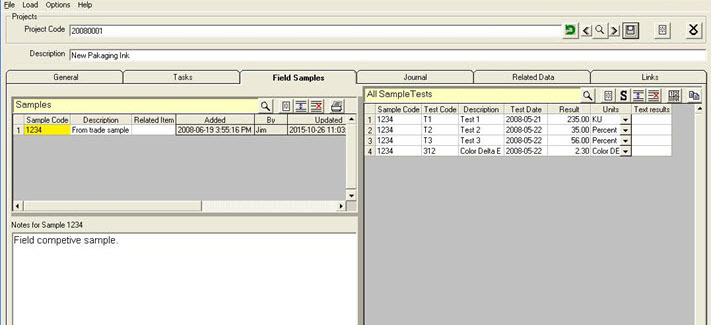 Journal provides the User the opportunity to document Project information in a time sequence with dates of entry documented with each Journal entry.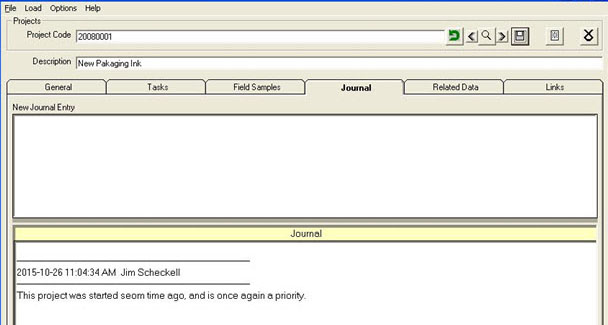 Related Data links Formulas developed, test batches created, Samples sent and extended tests run on test formula. From this screen you can navigate to any of the related data sources, open formulas, look a sample orders and related quotations, review test batch QC results, short term and long term.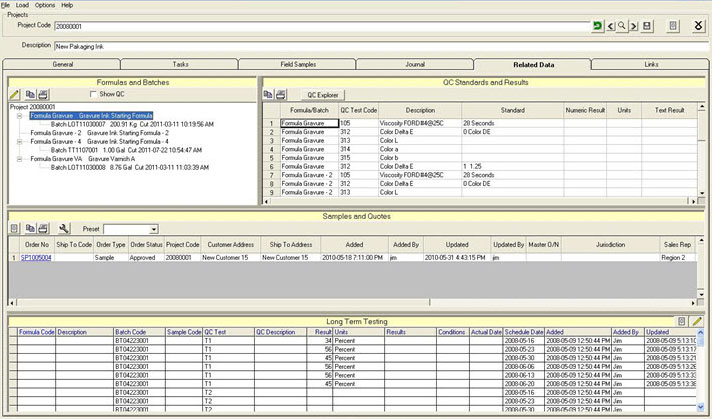 Testing Results – Provides the test data capture of short term and long term testing relating to Projects in progress. Allows scheduling of lab tests by test by date. Useful for scheduling the Analytical lab and archive test results. Tools are also provided to test competitive samples and relate to project formulation objectives.
Ties to Long Term Testing of test batches.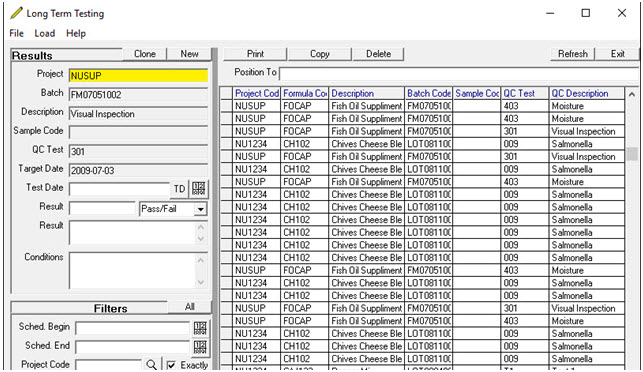 Links provides the User the ability to link with related information, documents, web sites on the network server or on the interned. No limitation to the number of links allowed in a project record.