FORMULATOR / REGULATOR provides a means to import LOLI Database data into FORMULATOR data tables. This data can then be used in the generation of MSDS/SDS and other regulatory documents.
Virtually all LOLI data is imported either into the REGULATOR HazMat Maintenance Module (by CAS number), or into a REGULATOR Lists of Regulations (also by CAS number). Lists of Regulations is mapped by end user requirements via simple-to-use tools in REGULATOR. Imports and updates are date/time stamped "LOLI" for auditing purposes.
LOLI can provide the vast majority of REGULATOR hazmat information in most regulatory environments. The only HazMat/List information not imported from or provided by LOLI are the effects of overexposure, incompatibilities, and hazardous decomposition products. These must be input manually or imported from spreadsheets.
LOLI updates are typically provided quarterly, and can be used to update existing hazmat data, as well as adding new hazmat data. REGULATOR's LOLI integration can both insert new hazmats and update existing hazmats. Finer grained control over updated elements are available on request, however, truly one-off mappings or transformations may involve a modest one time services charge.
REGULATOR HazMats
The following LOLI information is imported into the REGULATOR HazMats (on demand) as a matter of course. All objects are uniquely identified by CAS number.
Chemical description
Vapor Pressure (update only if indicated in 910. Company Set-Up, LOLI tab)
Vapor Density
Autoignition temperature
Evaporation rate
Appearance
Boiling points
Density
Melting points
NIOSH carcinogen rating
NIOSH target organs
TSCA checkbox (deprecated)
DSL checkbox (deprecated)
IARC carcinogen rating(s) Group 1, 2a, and 2b
ACGIH Carcinogen rating
EU REACH carcinogen rating
OSHA carcinogen listing
EU inventory
OSHA TWAs and STELs
RCRA D, F, K, and P Series
ACGIH TLVs
ACGIH Skin notation
ACGIH STELs
ACGIH TLV TWAs
NIOSH TWAs
NIOSH Skin notation
NIOSH Ceiling limits
NIOSH STELs
SARA checkbox
LD50/LC50 toxicity
GHS Hazard Statements
NFPA ratings
Ecotoxicity
WHMIS classifications
Flash point
This list is subject to change, and will likely increase over time. It is accurate as of 1 September 2012.
GHS Rating Information
LOLI will provide GHS rating information for toxicity, flammability, and GHS warning statements to speed compliance with United States OSHA requirements.
REGULATOR Lists of Regulations
Any and all LOLI regulations can be mapped to any FORMULATOR List of Regulations. Lists of Regulations are useful for identifying reportable hazmats in various jurisdictions, as well as listing them on any given REGULATOR document (MSDS/SDS, compliance label, bill of lading, or TREM card).
An example of a LOLI mapping is shown here, displaying California Proposition 65 (CA PROP 65), New Jersey Right to Know (NJ RTK), Transportation Wizard mappings, and a new entry for Massachusetts Right to Know (MA RTK; note the Quick List is still displayed):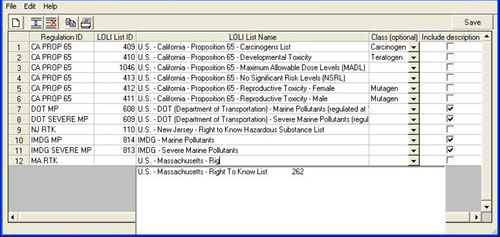 Quarterly Updates
LOLI updates are typically provided on a quarterly basis. These updates are important for compliance with hazmat, transport, and listing data for all regions. The updates are first applied to your local LOLI installation, and then in turn to FORMULATOR. It is highly recommended that you make a backup copy of your FORMULATOR database prior to undertaking any LOLI update.
*NOTE: The standard LOLI update function does not remove hazmats from FORMULATOR's Lists of Regulations during a normal update. Custom update gap trawling to identify de-listings are available on a custom basis.